Mobile Device Management
Keep your employees happy (and your data secure)
Bring your own devices (BYOD) is changing the way we do business. As mobiles and tablets flood the workplace, it's never been more important than now to think about applying device-specific policies. To do this you'll need a mobile device management (MDM) solution; which ATG-IT can provide.
With our MDM, you can provide users with fast and secure access to corporate data from their personal devices. And with the industry's broadest device support, intuitive workflows, simplified deployment options, and advanced management and security features, we make BYOD simple.
We aim to simplify the management of personal devices – without compromising the user experience, security or privacy. By providing flexible approaches for enrollment, asset management, policy enforcement and the distribution of profiles, apps and docs, all based on device ownership (whether corporate- or employee-owned). We'll even handle day-to-day MDM monitoring and management, and only escalate back to you the alerts that you want. It's truly a set-and-forget solution.
MDM features

Centralised Management
ATG Fully Managed MDM provides a unified mobile device management console for smartphones and tablets with centralised policy and control across multiple platforms. ATG will fully manage your estate in line with your internal policies.

Proactive Security
Our solution provides dynamic, end-to-end security and compliance management capabilities to continuously monitor devices and take action if required.

Monitoring and Reporting
ATG Fully Managed MDM comes complete with dashboards which enable interactive, graphical summaries of your mobile device management operations and compliance – allowing you to report in real-time across all your users.
Integrate Mobile Devices with Enterprise Systems
With the Cloud Extender, enterprise system integration is easy and straightforward –without the need for on-premise servers or network reconfigurations.
Separating Work & Play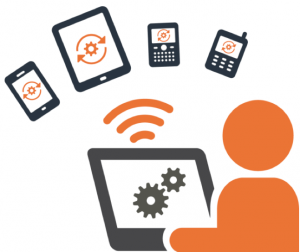 Your employees want to maintain one device for both work and play – they want to access corporate email, then check Facebook, jump back to email and review an upcoming presentation over lunch. This need for "dual personas" is exactly what our MDM solution aims to address. So go ahead, let your employees leverage their devices – and rest assured that critical business data and applications will remain safe, secure, and accessible. On your terms.
At ATG-IT we can: 
Securely monitor and manage mobile devices
Support all mobile platforms (IOS, Android, BlackBerry etc.
Provide secure containers successfully separating work from play
Remotely wipe devices of coporate data
Alert you of any jailbreaking and device rooting
Deliver technical support - we'll manage as much of the MDM process as needed