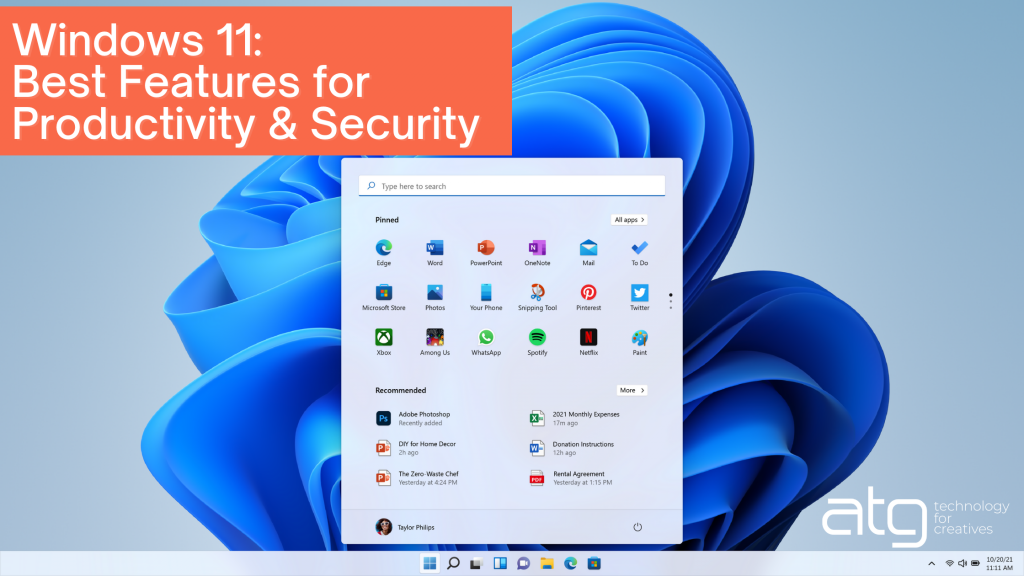 Windows 11 has been redesigned with productivity and creativity in mind. Although it is still in its public preview phase, the current build highlights many of the new features that Microsoft claims will increase productivity. Here are some of the new key features. 
Productivity
Android Apps Support (APK files)
Windows 11 adds native APK support meaning you can run android apps on your computer at the click of a button via the 'Windows Subsystem'. Microsoft has stated the addition of android app support is because "Windows is a platform for creators". Microsoft believes this feature will help app and games developers test and debug their apps and increase productivity. 
Snap Layouts
An expanded feature in Windows 11 is Snap Layouts, Snap Groups and Desktops to provide an even more powerful way to multitask and stay on top of what you need to get done. These are new features designed to help you organize your windows and optimize your screen real estate so you can see what you need just the way you want in a layout that's visually clean. 
Microsoft LOOP
With the introduction of Windows 11 comes a collaborative virtual workspace app called Microsoft Loop. Microsoft Loop is a new addition to the 365 package where you can Organize everything you need for a project (files, links, and data from other apps) into a single workspace. The idea here is to help you see what other members are doing and working on, respond to the ideas of other people, and view the progress being made toward a shared goal. With a Loop workspace, you can collaborate as a group at the same time or individually as needed. 
Microsoft Teams integration
With windows 11, Microsoft Teams is integrated in the taskbar. Now you can instantly connect through text, chat, voice or video with all of your contacts. Notifications with inline replies. When others contact you, you'll receive native notifications and even be able to respond directly inline to text chats. 
Security
Windows 'Hello' for Business
This feature helps protect users and identities. It replaces passwords, and uses a PIN or biometric that stays locally on the device. Device manufacturers are including more secure hardware features, such as IR cameras and TPM chips. These features are used with Windows Hello for Business to help protect user identities on your organization devices.  As an admin, going passwordless helps secure user identities. The Windows OS, Azure AD, and Endpoint Manager work together to remove passwords, create more secure policies, and help enforce compliance. 
Microsoft states that Windows 10 will be retired Oct. 14, 2025. After this date there will be no more security updates. If you are looking to upgrade to windows 11 to start using these great new features, you can find the system requirements for Windows 11 here at the Microsoft website.