Last week we conducted a GDPR Workshop in collaboration with the renown solicitors Harrison Clark Rickerbys. For those who may not know GDPR is a new legislation that is being enforced on the whole of Europe on the 25th May 2018. This new legislation aims to change the way organisations handle and process the data of EU citizens, granting them new rights over their personal data.
"This is the first time we have had specific, definitive information that we can act on and make our privacy statements better and data protection with specific wording and advice"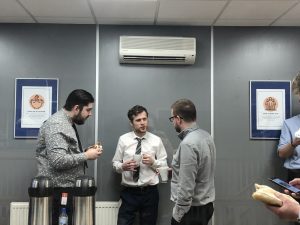 Collaboratively we covered GDPR without the boring bits or scare tactics, focusing on the whys and hows along with the legal and cyber elements of the new legislation, being enforced on the 25th May 2018. Giving actionable steps for our attendees to take and apply to their own business.
"It wasn't too long and was very informative, the guys that did the talks were engaging and it was very compelling what we learnt so its about going back and making sure we tick all the boxes now."
The workshop was led by Steve McGowan our 'Lead Consultant' on data security and compliance at ATG-IT and Steven Murray, a 'Senior Associate' at Harrison Clark Rickerbys. Both have a vast amount of experience in the IT industry and their combined expertise make them perfect in tackling the key areas of GDPR.
Video Testimonial 
We also quizzed our attendees on three questions exploring what they liked about our workshop and also what they took away from it. You can view the video here:

Here are some of the companies we had attend.
Overall, the event went well and was very well received and feedback has been great so far. We'd just like to thank everyone who attended, we now hold these workshops on a monthly basis. So if you would like to come along read our section below.
Would you like to come along to our next workshop?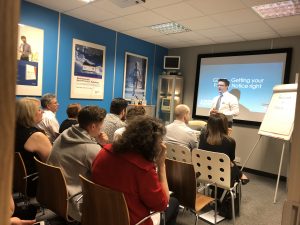 We have now made our April event page public, you can now purchase your tickets by clicking here. Spaces will be filling up quick so save the date Thursday 17th May 2018.
If you cant wait until then? If you like we can arrange a GDPR workshop at your office for all major/relevant stakeholders. Addressing GDPR and the specific things your organisation should be doing, click here to find out more.
Alternately, you can contact us directly on 01527 570 535 or view our entire GDPR offering here.
Relevant blogs