We have just completed a year of fundraising for The Motor Neurone Disease Association. Kate explains why and how we did it.
A little over a year ago, ATG, as a company decided that we'd like to support a different charity every year by raising money for them. A few charities were suggested including my personal choice (The MNDA). Before we got chance to vote I got a call whilst I was at work from my Mom to get me to come home as my Dad, who had been suffering from MND, was really unwell. My Dad passed away that day. In my absence, the rest of the company decided that our charity for the year would be the MNDA who do so much for MND sufferers and did a hell of a lot to help my Dad.
Over the 12 months that followed we all got stuck in with various activities and fundraising activities to do whatever we could to raise valuable funds for the charity.

Our first donation came from group of bike enthusiasts who love to visit unusual buildings and have photos taken there. They contacted Mark (El Capitan) as he lives in such a property and Mark offered permission to take photos on the proviso that they made a donation, which they did!
A group of us (Me, Martin, Chatters, Chatters's friend Jake, Mole and Steve took part in the Winter Wolf Run (a 10k, muddy obstacle course) and gained sponsorship, another chap (Benno) completed the last ever UK Tough Guy course (which was more brutal than the Wolf Run!) to gain sponsorship. Hughesy nearly gave himself type 2 diabetes with a sick making eating challenge involving tunnocks teacakes which we all sponsored him for. Throughout the year we've had a tuck shop where all the profits went towards the total. I've baked and sold cakes in house, begged businesses for raffle prizes and sold tickets to enter as well as fining people 20p a time for not washing and putting away their coffee mugs overnight.
The finale to our year of fundraising was having 2 members of staff from the MNDA (Richard and Lucy) come to visit us where we presented them with a giant cheque for £1391.47.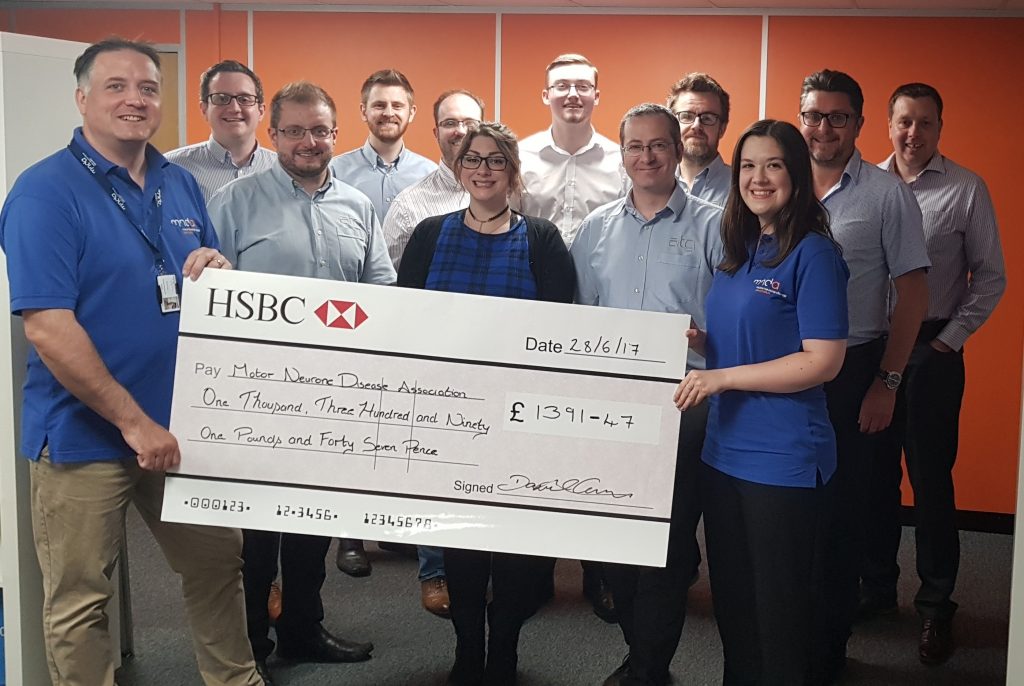 Richard and Lucy from the MNDA showed us this video to explain the impact of MND on peoples lives.
You can see what we got up to and still donate to the MNDA through our page:
We've been spurred on by our success with the MNDA to carry on our annual fundraising. This year we'll be raising money for Macmillan. Let's see if we can smash last year's total! To donate to Macmillan through our fundraising page and stay updated, check out the link below: