We are thrilled to announce that our CEO, Mark Matthews has been awarded 'Inspirational SMB Leader of the Year' by the Network Group at their annual awards show.
"I'm very humbled to win Inspirational SMB leader of the year 2019 at the NG awards. As a CEO I think its important to share your experiences, the wins and the losses. Pushing our egos aside to make teachable momments for my peers, employees and the new generation" - Mark Matthews
The event took place at Whittlebury Hall in Northamptonshire on the 21st March 2019 and also marked Network Group's  25th Anniversary as the UK's leading technology community.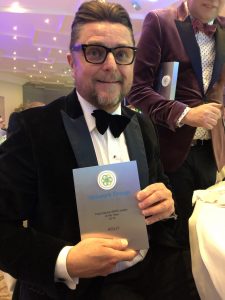 On the night we were nominated for a total of three awards; Customer Experience Champion of the Year, Member Collaborator of the Year and Inspirational SMB Leader of the Year. To come home with one of them was a great achievement and we look forward to what the rest of 2019 holds.
Recently, Mark has been developing his personal brand through keynote speaking opportunities at major industry events such as Continuum, Tech Edge and CompTIA to name just a few, further strengthening his position as a leadership consultant for business owners in the professional service sector. If you would like to keep up with Mark's public speaking or receive general leadership tips/stories,you can do so via his website Crisp Leadership.
Established in 1996, as the UK's most powerful IT group Network Group offers a network for UK IT companies to share ideas, solve problems and grow together.