We are thrilled to announce that ATG-IT has been awarded 'B2B Reseller of the year' by the  Network Group at their annual Gala Dinner Awards.
The Gala Dinner Award took place on Thursday 10th May in Brighton and was hosted by stand-up comedian Justin Moorhouse. The event brought together over a hundred of the IT industries leading players, resellers, distributors and vendors.
On the occasion, the members and industry partners have generously raised through charity raffle and auctions a whopping £5,500 for Prostate Cancer UK.
Network Group was established in 1996 when 20 companies joined forces to create the UK's leading IT buying group. Now in its 22nd-year Network Group is the UK's most powerful IT buying group with over 60 companies across the UK and Ireland working together to be leaders in the IT industry.
The group currently has over 100 key members in key geographical areas of the UK, Ireland and the Channel Islands that work strategically together to deliver outstanding customer service to their client base. Providing purchasing, sales marketing, technology and network services to its members.
At ATG we strive to be the best at our craft and we take our values seriously which allows us to be the customer-centric organisation we are today. In 2016 we introduced a book called 'Traction' and made some dynamic changes to the business, we are humbled to receive this award which shows our hard work has paid off.
Thank you ATG team!
You can view the full list of winners and the categories here.
What the heck is EOS?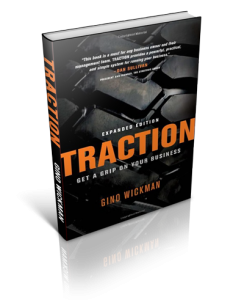 Earlier that day our CEO, Mark Matthews presented to the members of the Network Group on 'What the heck is EOS?'. A presentation discussing the book 'Traction' and introducing the Entrepreneurs Operating System (EOS) - a series of books by Gino Wickman.
"I have come back from the meeting absolutely hyper following your presentation.

I am 50% into the book on Traction which I am finding fantastic reading. I have my wife saying that I have been away for three days and its time to roll my sleeves backup.

Yours was one of the best sessions I have ever been privileged to attend. I will be trying to implement your suggestions.

A huge thank you."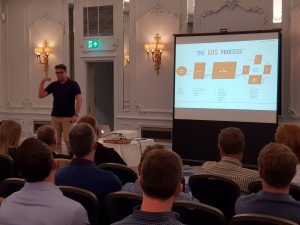 The Traction book takes the good bits out of many different and successful business philosophies that are aimed at Enterprise level business and translates them into a powerful tool to SMB's
In Marks presentation, he also shared his views on the importance of company values and how ATG identified their own. In this presentation, Mark gave insight into why your business values need to represent the existing team and NOT be based on what the CEO deems as important.
Mark ran this same presentation back in January and was very well received. He was humbled to be invited back for another session, with over 50 people signing up.
If you'd like to find out more about developing business values or advice on developing a healthy working relationship with employees/stakeholders feel free to drop Mark a message on LinkedIn as he's always happy to help.